Five Major Reasons Dave Whichard Became The Fastest Agency Builder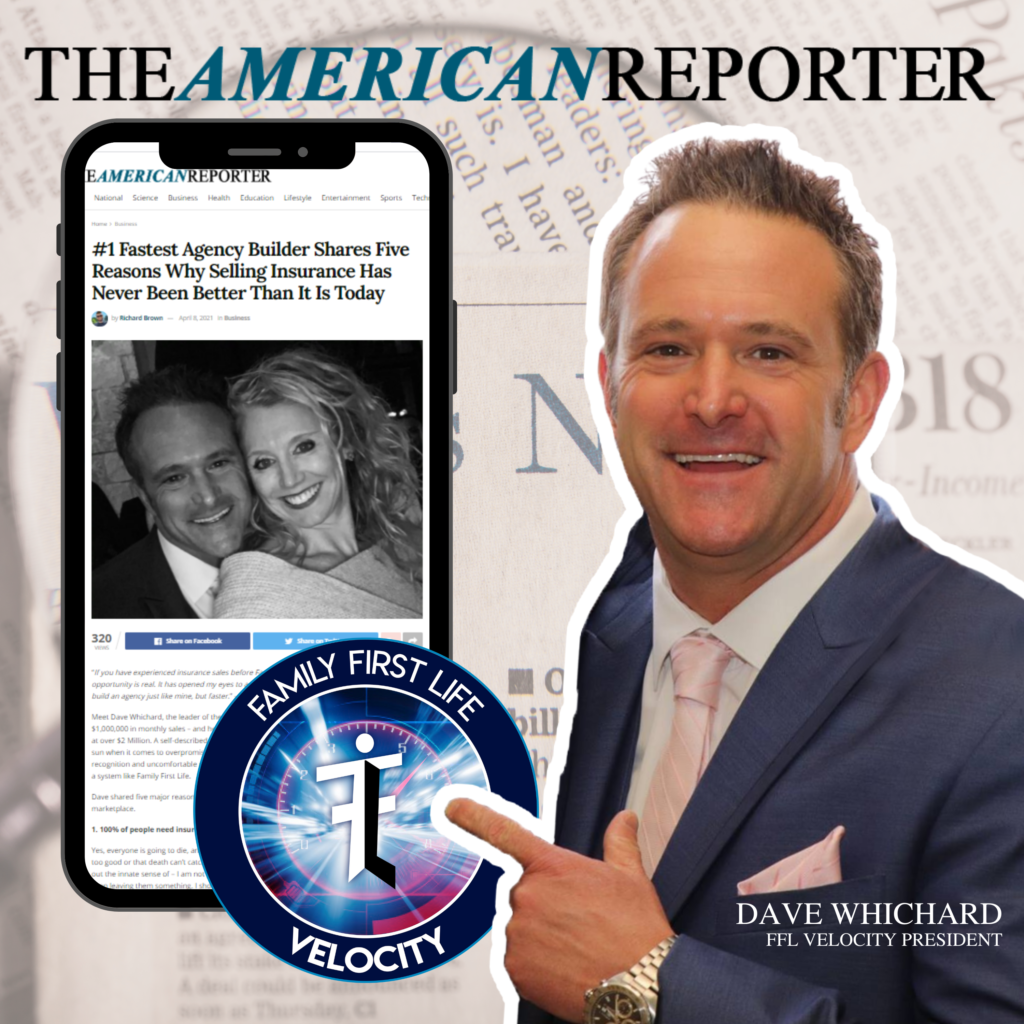 "If you have experienced insurance sales before Family First Life, you won't believe this opportunity is real. It has opened my eyes to a new world of sales. I'm aggressively helping others build an agency just like mine, but faster." – Dave Whichard, Agency Owner
Meet Dave Whichard, the leader of the fastest-growing insurance agency in the country – and he did it in only ten months. A self-described life-long insurance guy, Dave has seen everything under the sun when it comes to overpromising sales systems, inferior products, managers who seek recognition, and uncomfortable recruiting tactics. What he hadn't seen over his 24-year career was a system like Family First Life.
Dave shared five major reasons he was able to build such a powerful organization in today's marketplace.
1. 100% of people need insurance – and they're thinking about it more than ever.
Yes, everyone is going to die, and when times are tough, people lose their bravado that they're too good or that death can't catch them. COVID has embedded a reality for individuals bringing out the innate sense of – I am not going to be around forever. I should protect my loved ones, even leaving them something. I should not leave them with the burden of paying for my funeral.
Over 50,000 requests are being generated online every day by people wanting help and needing to figure out options they can qualify for. Our goal is to contact every lead that is raising their hand, asking for our help.
2. Family First Life has access to insurance companies with nationally recognized brands that pay you commissions daily.
The insurance industry is often muddied with agents getting someone protected from an insurance company that no one has ever heard of and struggling to get their commissions paid. Thankfully, things are different now because Family First Life USA has opened the flood gates on the ability for agents to earn ridiculously high commission compensation as they grow their sales while starting at a high contract level that is unrivaled in the industry.
Deposits show up in your own bank account that are directly paid by large A-rated insurance companies every day you're owed a commission based on your sales. There is no middleman and you have the ability to increase your income as you grow with us at Family First Life.
3. Today, there are more hungry and humble people not happy with their job and they're looking for something better.
Bankers, real estate agents, car salesmen, door-to-door meat sales, home security sales, network marketing, pest control, flight attendants, wait staff, and many other professional, hard-working people are out of work and motivated to try something new.
We have a frictionless onboarding at FFL USA. We take someone with no experience and pay for their life insurance test prep work, then have them working and making money in weeks. If someone has a why and is a hard worker, they can fit right in and become a team player with Family First Life.
It's inspiring and touching to see someone pay their own bills, and then build a business that they own. No matter what city, what state, this is a real business and we are proving the point that anyone can do this. That's a reality of how good the insurance industry is right now, and it's not going anywhere but up!
4. A team atmosphere, mentorship, free training and an openness for everyone to win exists
When a company does this well in the insurance industry, there are a lot of good people doing something that's never been done before. Family First Life USA has a culture of winning unlike anything before. Teams share ideas with other teams. Top agents are an open book on what makes them successful. The atmosphere is about business and helping people more that it's about being a social club.
Andrew Taylor, Vice President and Board Member, says it well, "All of the training on "How to Sell" is done by agents currently helping thousands of families per month, at the very least. We are learning from the best people possible."
5. Our Family First Life model regarding leads, training, commissions, and products is we're only getting better.
Over 59 people made Hall of Fame in 2020. That is not an accident. That is a testament to the business model at Family First Life. Shawn Meaike, President and Founder had this to say, "Dave Whichard is the fastest to build a business, but because of our systems and momentum, we'll have multiple Dave Whichard's take it to the next level in 2021."
The moral of this story is that selling insurance is only going up and it has never been better than it is today, except tomorrow.
– Connect With Us –
Follow Dave Whichard on Instagram

Andrew Taylor
Instagram
Facebook
Twitter

Family First Life USA
YouTube
Instagram
Facebook
Twitter
TikTok
To learn more about FFL USA visit ffl.tv or call (877) 348-5216
– Experience The Family First Life Difference –
1. CONTRACT RATES: Carrier contract rates up to 145% – PLUS Family First Life pays out monthly bonuses on team and personal production numbers on top of that.
2. TOP FREE TRAINING: Best training in the industry from active top producers teaching what is making them so successful. We will help you become the smartest agent in the field.
3. FRESH LEADS: Direct Mail Mortgage, Internet, Final Expense, Medicare, and Annuity leads. No cold calling is necessary!
4. NO FEES: No costs for training. No costs for your back office. No costs for conference events or the Annual Convention – and free license training for new agents.
5. VESTED RENEWALS: Fully vested renewals from day one and no contracts.
Join the team! Fill out the contact box below to join.